Learning Fun Series - eBooks

Our children are our future, wherever we live. Our children's early learning of fundamentals such as the alphabet, numbers and concepts will greatly assist them both in life at large as well as in their early school days. At this time in their life, learning is fun as they explore nature and things within their environment.
The Learning Fun series has been carefully designed and developed to provide this early learning by
(a) maintaining focus on the learning subject area,
(b) encouraging the involvement of parents, brothers and sisters and grandparents,
(c) is very simple and friendly to use. The Learning Fun series is not a traditional computer game. It is not complex for the child to use, and parents will feel comfortable to leave their child unassisted at the device to use the eBook knowing that the software is child friendly.
Learning Fun series is unique (globally) and will assist children to learn and understand the fundamentals in everyday living.
Currently the first 3 titles of Learning Fun series are available.
Key features:
Easy to use interface simple tap is required on the mobile device screen by your child.
Encourages your child to learn while having fun.
Helps your child's phonetic, counting ability and colour/shape recognition ability development.
Help satisfy your child's desire to use the mobile device like you do.
These eBooks narrates single sounds and the associated words, number and the name of object shown, name of shape and colour, in human voice.
Ideal gifts for your child or someone you love.
Dedicated to growth and development of our future, our children.
Configurable settings (as explained in FAQ below) for changing content of eBooks to suit your child's learning needs &/or age.
A MUST HAVE very FIRST eBooks for your child.
Learning Fun is not a complex computer game. A computer game contains too much advanced content for Early Learning of 0 to 5 years olds.
Parental involvement (optional) in Early Learning content.
Phonetics (pronunciation) becomes clearer.
Frequently Asked Question:
How do I change settings in Learning Fun Series Products?
All the products in this series are highly configurable, for example you can change settings in Learning Fun 2: Numbers to teach counting from 1 to 25.
To get to settings page in each of these products you need to click on the settings icon as shown below on the title splash screen of the products.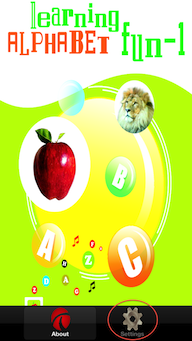 In Learning Fun 1: Alphabet you can tell the program to teach your child lowercase alphabet or uppercase alphabet etc. as shown below:
In Learning Fun 2: Numbers you can choose the maximum number to teach your child depending on age. Turn animation of numbers on or off, turn counting on or off between pages etc., all this is done in the settings page as shown below:
In Learning Fun 3: Shapes and colours, you can choose if you want to teach only colours, basic 2D shapes etc. depending on the age of your child. You can also choose if the software shows American English or British/Australian English, this is shown below.
Simply choose the options that are suitable per learning needs of your child and click on save.
The home splash screen is shown only the first time application is started on your mobile device, therefore if you are already running the app and want to change the setting you need to close it first.
This can be done by following these simple steps on iOS devices:
1. Press the home button twice in quick succession.
2. Device will show all running apps as shown below:
3. "Tap and Hold" the app icon you want to close until the icons start dancing with a red minus sign circle on them as shown here:
4. Tap on the red minus circle to close the app.
Now when you start the app again you will see the home splash screen from where you can navigate to settings page easily as explained above.
On Android devices you will need Advanced task manager using which you can terminate/close any running app on the device, you can download any of these app managers from Google Play and use it. After terminating running app, the next time you start it you will see the welcome splash screen with settings tab at the bottom as shown in figures above, use it to confifure the app.
We hope this information is useful and helps you use and realize full potential of these apps.